Gifts Ideas, Giving Artworks as Gifts
Finding the perfect gift for special occasions has always been a daunting yet pleasant experience. The gift which we pick varies depending on the recipient, as we need to consider their personal taste, preference and needs. The right gift that fits perfectly with the recipient, is a sure way to convey our effort and love for them. Giving gifts not only has its deep and profound philosophical meaning, it is also an important part of Chinese tradition.
As economy grows, along with changes in society consensus and policies, modern artwork is no longer privileges for the rich and great. With more and more people start to collect artwork, artwork has become an increasing popular choice as gifts. Artwork carries the idea and meaning which their creator instilled in them, giving them as gifts has in a way shared the idea of the artwork with the person receiving it. The mutual appreciation and understanding to the idea, is exactly the most memorable and valuable part of an artwork, just like poems and music. Also, this is the main reason why artwork is worth collecting.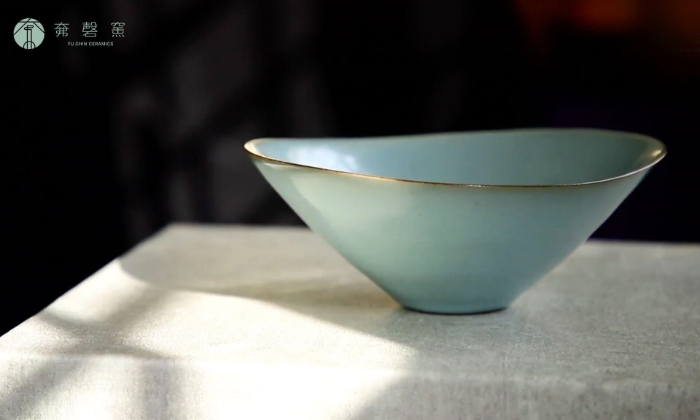 Why modern artwork is a great choice for gifts
1. An exquisite gift to demonstrate relationships
To find the appropriate gift, we need to consider the recipients' status and our relationship with them. A delicate gift for richer individuals, a memorable gift for important partners, an interesting gift for friends, a practical gift for elderly, and a unique gift for guests. It all comes down to daily observation and the effort we put in, to find a gift to deliver our appreciation. Receiving a gift that fits one's preference and personal taste, can not only bring joy to the one receiving it, they will also feel our understanding and effort for them.
2. Inspiration to ameliorate thinking and innovation
Artwork can be a decoration in a room, but at times it can be a spiritual mentor for people to heal, innovate and explore themselves.
Artwork often delivers a direct and vivid meaning or vision, as they are the manifestation of an artist's idea. With their creativity, artists have infused their emotion and idea ingeniously in their artwork, presenting them in a way that can communicate with their audiences' mind, and resonate with them. The resonance and the inspiration it brings, is one of the reasons why people started collecting artwork, and this has in turn given new meanings and life to these creations.
3. An everlasting value that never goes outdated
The slow, skilled artwork from an artist holds significantly more market value than trendy, fashion luxurious items. The intangible value they hold within and meaning differs as well.
As artwork carries the idea and message from its creator, it will always be valuable regardless how much time has gone by. Instead, it may even appreciate as time goes by. As it was passed on from collectors to collectors, new understanding and perspectives are being explored and shared, adding new value and meaning to the artwork. The mutual understanding, common resonance shared by several generations and the history it carries from its predecessors, is unmeasurably valuable.
As each individual has different preference and status, we should focus on the compatibility of the recipient and the gift. The perfect gift should fit the recipients' status, at the same time it should be pleasant to look at, while capable of delivering your feelings of appreciation to the shared connection. The one unique gift that can fulfill all goals mentioned above, is a piece of carefully selected artwork.
However, modern people are so busy that they spend very little time on finding the right gift, and end up spending their money on fast moving consumer goods that are actively promoted by advertisement. This is the reason why aesthetic appreciation is being neglected nowadays. If people can be exposed to more artwork, they can explore more suitable and unique gifts on different occasions. This can alleviate one's perception towards life as well. This is the reason why many corporates and executives started collecting artworks.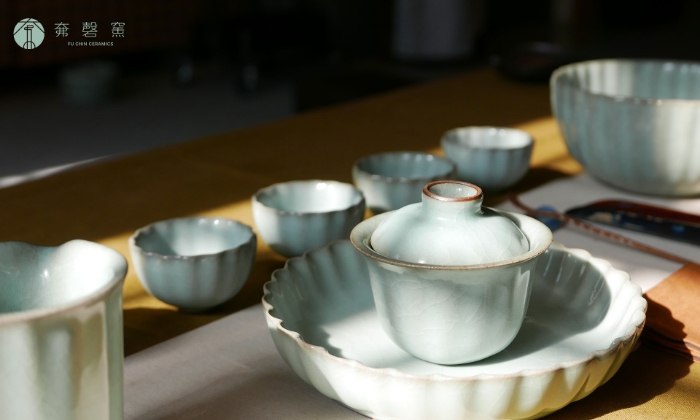 Celadon, the elegant
In Asia, aesthetic minimalism emerged in the Song Dynasty. Unlike the mannerly and bold art style in the peak of Tang Dynasty, artwork in Song Dynasty succeeded the implicit and introverted art style of Late-Tang Dynasty. With simplicity and purity as the main tone of the time, celadon ceramic is certainly the most representative artwork of the time.
Although modern pottery techniques have improved since then, celadon is unarguably irreplaceable. The softness and pureness on par with jade which celadon presents, resembles the moon from a beautiful night in Song Dynasty, which has traveled through a thousand years, shining at us at its best from the artwork. The beautiful shine from the pure, greenish artwork is unrivalled.
Celadon, with its smooth curve and pure glazes, shows its reluctant to drift with the tide and determination to be a class of its own, demonstrating its elegance and gentleness of a scholar in the Song Dynasty. The beauty which the gentle, glittering Celadon is trying to pursue, is serendipity and calmness, just like a beautiful scenery in the wonderland, as the famous poet Su Shi wrote, "The west lake resembles the classic beauty Xizi, always at her best, adorned or plain."
The representative figure of modern celadon artwork, Fu Chin Ceramic, is always ready to show you the beautiful world of celadon, just as mentioned in Song poems, "always waiting there, by the quiet and dim light".
Fu Chin Ceramic has not only received recognition from National Palace Museum, the brand has also created 2 out of 10 artworks (Narcissus Basin in Bluish-Green Glaze「青瓷藝品-天青無紋水仙盆」 and Ru Ware Warming Bowl with Celadon Glaze「汝窯 青瓷蓮花式溫碗」) which are listed the greatest treasure of the museum, in collaboration with the museum. Fu Chin has received numerous awards in exhibitions in Taiwan, China and Japan. The most impressive achievement is receiving an award from Japan Traditional Kogei Association, Tokai branch in 2020. He is also the first Taiwanese in the association.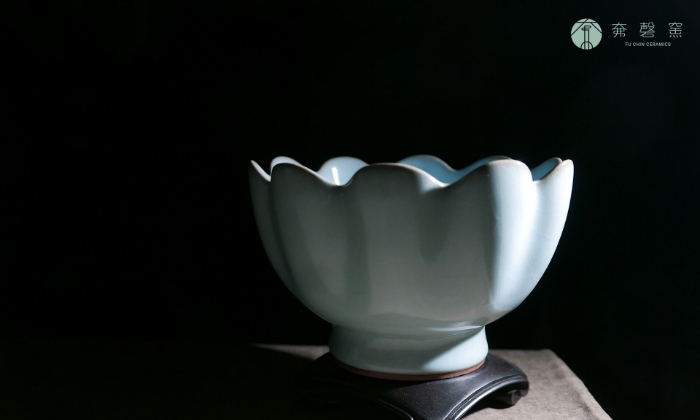 (Image/ Ru Ware Warming Bowl with Celadon Glaze「汝窯 青瓷蓮花式溫碗」)
From another perspective, artwork is considered high quality assets for investors. Having overcome the difficulties and challenges in the market, artworks from Fu Chin Ceramic have stably maintained an appreciation in value higher than inflation for years. With years of dedication in celadon market, Fu Chin is now a highly recognizable unique artist in the art industry.
In Fu Chin Ceramic's artwork, you can feel the warmth and beauty of Song Dynasty celadon. Their works are so delicate that you may think you have traveled through time back to the past, experiencing the actual ancient celadon that demonstrates the beauty and elegance which is simply in a class by itself.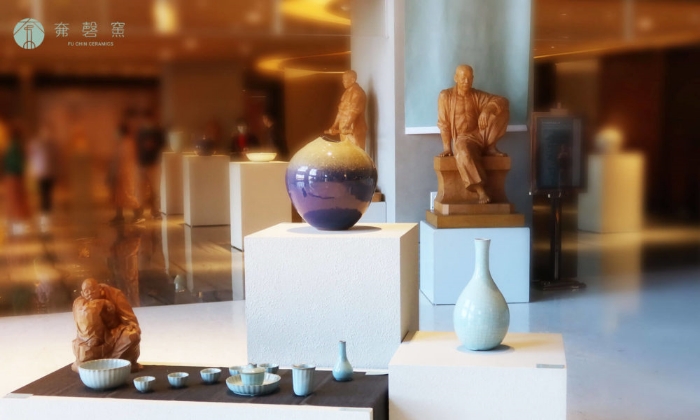 The perfect collection choice for business owners
Artworks in monthly selection of Fu Chin Ceramic are suitable for both gifts and personal collection for business people. Fu Chin Ceramic looks to expand in large size celadon market, which is a rare field in the market. With its delicate crackles and firm glaze layers, Fu Chin Ceramic sets to demonstrate its commitment and insistence of quality with experienced techniques, making their artwork meaningful and significant.
Celadon made by Fu Chin generally has an azure or lavender glaze color, with warm glazes to highlight its amazing texture, elegant patterns and delicate crackles as decoration. The free blue butterfly Qing-Die (青蝶) which fly freely, the auspicious fruit Ji-Xiang-Guo (吉祥果) which celebrates a good harvest, the smooth Chu-Ji-Yuan-Ping (出脊圓瓶) with perfect curve and lines, and the modern classic celadon Tian-Ching-Qi(天青器) which has been previously given an award, are all artworks suitable to be placed at lobbies of commercial buildings, creating an elegant atmosphere in the space.
For guest rooms, the quiet yet dignified You-Rong (有容) and Tian-Ching-Wu-Ban-He (天青五瓣荷) which demonstrated plumpness would be the best choices, as they create a humble atmosphere with gentleness, but at the same time demonstrate their refined charisma.
Putting celadon in the study room creates a relaxed and merry atmosphere in the room, as if we have traveled through time back to a room in Song Dynasty, where the scholar back then enjoyed their time most. With Luo-Shen (洛神) which combines modern curvature and classic appearance, and the simple Yu-Zhi-Chang-Jing-Ping (玉質長頸瓶) as decorations, the room gives glint feelings of a merry, elegant lifestyle.
With his burning passion, Fu Chin dedicates himself to creating more unique celadon artworks and sharing the profound cultural knowledge to more people. He hopes to bring more exposure to celadon artwork, and bring celadon artworks to a new height in art industry.
Chu-Ji-Yuan-Ping《出脊圓瓶》
The one who finally become a pillar for all, with 30 years of dedication and hard work. The smooth Chu-Ji-Yuan-Ping with perfect curve and lines shows calmness and etiquette, yet in it contains the intimacy of modern artwork. A perfect artwork worthy of our anticipation.
Qing-Die《青蝶》
Like a blue butterfly, appearing only in dreams. Qing-Die has a large surface of 56cm in diameter, a rare piece of celadon indeed. Adding new personal perspectives while retaining the essences of ancient tradition, this piece of artwork gives a serene vibe with Chinese aesthetics, with its delicate and advanced craftmanship.
Tian-Ching-Wu-Ban-He《天青五瓣荷》
From where the silver lining shines, comes glitters of azure. The posh color of Ru ware which shows both outgoing and implicit characters, demonstrates the original charm of azure color. Tian-Ching-Wu-Ban-He is the best portrayal of hope, with silver lining shining through dark cloud after rain.
Ji-Xiang-Guo《吉祥果》
A sincere and prosperous blessing to you. Ji-Xiang-Guo pursues the best craftmanship, depicting the classic Chinese aesthetics. With its gentle lavender glazes and smooth curves, it demonstrates an auspicious sign with a dignified ambience.
You-Rong《有容》
The plump curves and red crackles, highlight the dignified atmosphere You-Rong has around it. The clean lines around the bore, in smooth alignment with the body. The perfect ratio of it echoes with You-Rong's generosity and boldness.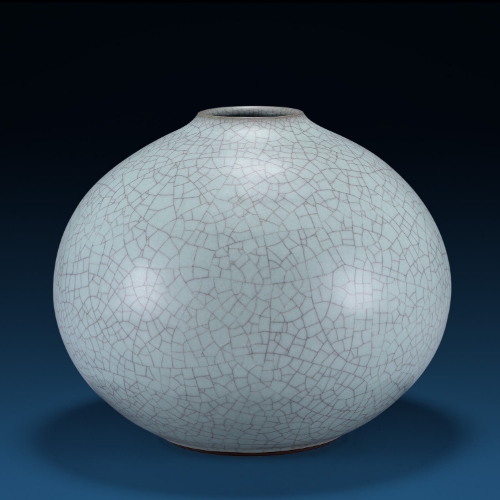 Luo-Shen《洛神》
To describe the ancient beauty Luo-Shen, smooth curves and beautiful lines from traditional plum vase are utilized to create vivid image of the beautiful lady's collar. With fresh azure color that gives a posh and elegant vibe, this artwork resembles a portrait of the ancient goddess of Luo-Shui, taking her stroll by the lake.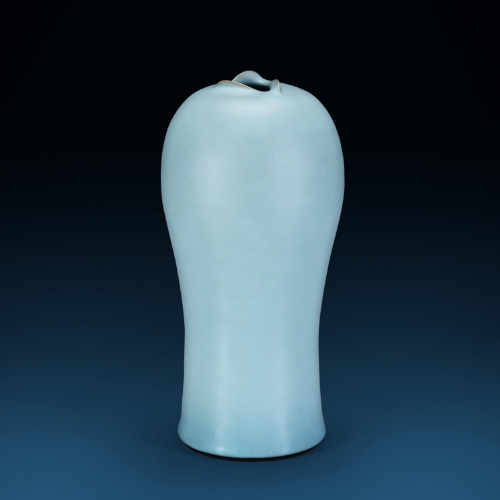 Yu-Zhi-Chang-Jing-Ping《玉質長頸瓶》
Long neck artwork by Fu Chin, always a favorite of collectors. Retaining traditional elements on figure, while innovating on the lines, infused with Fu Chin's idea on humanity. With firm glaze layers, Yu-Zhi-Chang-Jing-Ping shows integrity of Song Dynasty scholars, instead of the tenderness presented by traditional long neck vase artwork.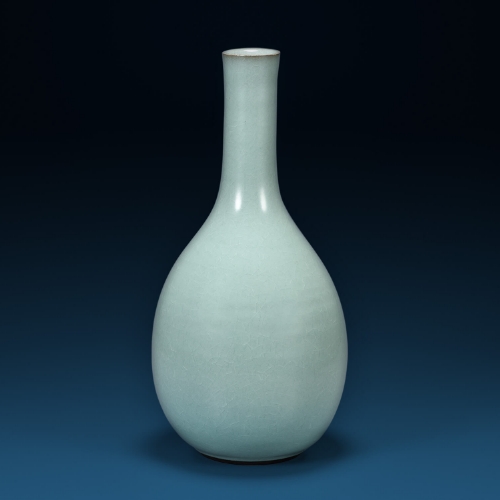 Tian-Ching-Qi《天青器》
Tian-Ching-Qi, the definition of beauty of modern celadon. With symmetrical lines and traditional figure, it represents the innovation in celadon artwork. The 8 sharp and clean ridges create shadows, which add to the flavor of Tian-Ching-Qi, while maintain balance and its delicate atmosphere crafted by the azure.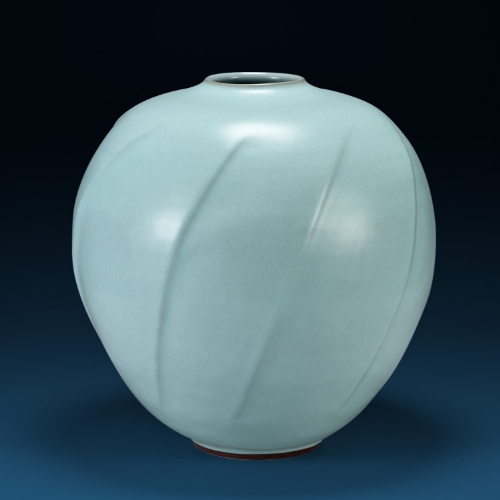 About Fu Chin
Introduction
Fu Chin, an artist dedicated himself to creating exquisite celadon artworks and ice crackle celadon. He wishes for people to find serendipity from within the heart, and enjoy every moment of life, feeling all the great things around them, by indulging themselves in the beauty of celadon.
Whilst having only 15 years of experiences, he has created the artwork with the highest price in National Palace Museum, in a collaboration with the museum. He has received numerous awards in exhibitions in Taiwan, China and Japan. In 2020, on his 3rd year of joining Japan Traditional Kogei Association, Tokai branch, his celadon creation was given an award by the association. He is also the first Taiwanese in the association.
Contact
T . +886-4-2461-6901
E . [email protected]
A . No. 5, Ln. 128, Fuya Rd., Xitun Dist., Taichung City
w . https://fu-chin.com.tw/
FB . https://www.facebook.com/DTceladon
IG . https://instagram.com/fuchin_pottery
Related Articles
Welcome to Fo Guang University's 2023 International Summer School! We are excited to invite international students to join us for a two-week program from June 25th to July 8th.
Ceramics in the Song dynasty is the most glorious chapter throughout the history of pottery. The spirit of scholar-officials and Zen Buddhism not only cultivated advanced civilization of the society, but also achieved the simplicity and elegance of Song ceramics. That is, Song celadon ceramics suitably present the most intricate standards of refined beauty in the purest form, shown by multiple aspects of the works such as the shapes, glaze, and texture. When it comes to appreciation of celadon ceramics, viewers have to observe the subtlest details, from light and shadow to crackles, to feel the dedication of the potterist.
Rice, tea leaves, and orange daylily, Yuli Township, Hualien, gathers precious agricultural resources, awarded by several competitions. To improve tourism in Yuli, the Small and Medium Enterprises Administration, Ministry of Economic Affairs, initiated the "New Life in Pusko" project to promote excellent products via a digital cluster consisting of 10 local enterprises. The project is aimed to make Yuli a new popular tourist destination of Hualien with joint digital marketing campaigns.