Return to Simplicity: Fu Chin and the Celadon
"If you are one to give yourself challenge (in Fu Chin's word, electrocute yourself), then start making your own creations." A remark made by Fu Chin.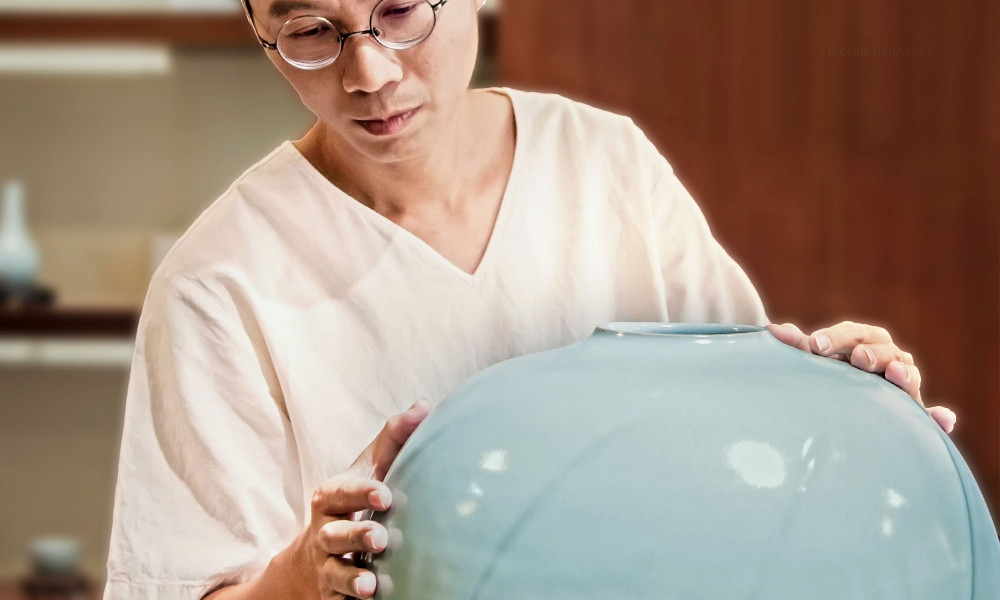 When people first started expressing themselves with Celadon
Celadon from the Song Dynasty, has been the artworks which represent one's status, and was actively sought for by saints and prestigious individuals. The techniques to produce these artworks at the time was already very advanced, and many artworks were created at the time. Among them includes the Ru ware celadon glaze (汝窯天青釉), known for its simple figure and patterns. The intrinsic and delicate art style which emits exquisite vibrant, has coincidently echoes with the aesthetic minimalism which is embraced by many today, over a thousand years from then. Fu Chin, the celadon artist who takes in life experiences in his creations, has worked his way past imitation and forged his own style. Now, he is a representative figure in Taiwan art industry, and continues to share the beauty of ceramic artworks.
Fu Chin, with his decent look, you would have thought he had an art related background, as he has been known as the reincarnation of celadon by many other artists. Actually, he was an engineer in the electronics industry. Although having a career envied by many, Fu Chin is not satisfied with such life. He left his job in 2004 and started his journey in art, hoping to embrace the beauty of life with celadon artworks.
It is not Fu Chin who chose Celadon, but it is celadon which welcomed Fu Chin instead.
The resonance Fu Chin had with celadon, is like a predetermined destiny. The name 'Fu Chin', originates from the percussion instruments found in temples and from The Great Buddha, representing the philosophical state of spiritual transcendence harbored in the sound of temple bells. In his memories as an apprentice, he was unable to grasp the meaning outside the words initially, as he had a rather rational thought process back then. With relentless dedication to learn and help from his seniors, Fu Chin was finally able to become a good craftsman in the field.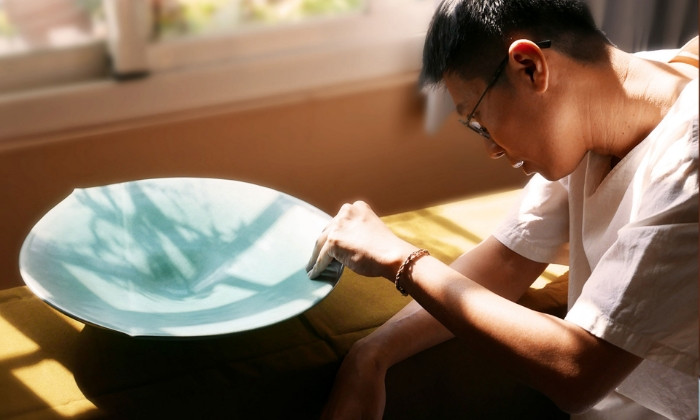 Celadon glazes and the effort it harbors
Thanks to Fu Chin's ability to explore solitude, he is able to feel the sensitive movement of sensation, and reach the state of "be as one with the artwork" without the influences of emotions and habits. By exploring the limitless possibility in serenity, he creates artworks which gives a natural and lively vibe. Fu Chin thinks celadons harbor in them the essences of Chinese culture, the technique and aesthetic they harbor is also unique for each artwork. With celadon creations as the medium, Fu Chin releases his energy from his soul, which is then transformed into ripples of sensations, recreating the ideas from thousand years ago.
There are many schools to celadon creations, but Fu Chin has decided to focus on artworks with azure or lavender tone in recent years. The reason to that, is the unique cracks on celadons, which appeared when different applied glazes are used. The unique cracks on celadons have a poetic name, crackle (開片). Glaze is the key to producing crackle, and crackle are formed due to the difference in expansion coefficient of the glaze coating and clay body. As the silica in the glaze tightens more than the one in clay, the glaze is then drawn against the piece. Celadon, is the best embodiment of imperfect atheistic in ceramic arts.
Celadon has different kind of crackle, among them the ice crackle has the most attractive visual, the layered crackle resembles the melting snow in early spring, meaning the end of cold, quiet winter and a sign of fresh start. Fu Chin thinks, ice crackle can be a class by itself in modern times, and is dedicated to producing exquisite ice crackle celadon artworks.
Apart from the ice crackle, another popular celadon is the Guan ware, particularly the ones with eel-blood like color crackle. This type of celadons mostly has an azure color body, and by applying reddish iron water on glazes coating after firing, red crackle is produced. Artworks with azure glaze accompanied by red lining, have been the focus of Fu Chin's creation recently.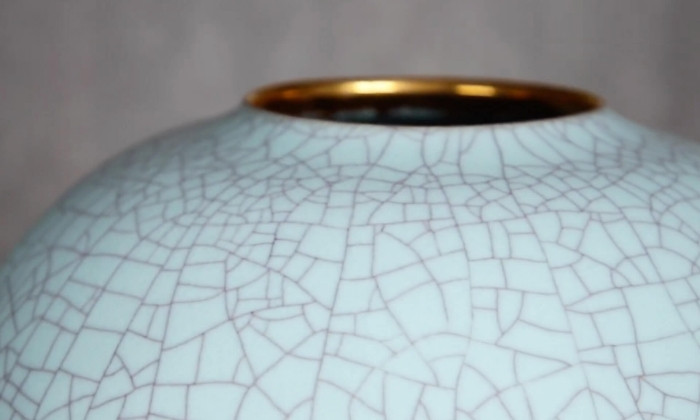 The implicit and romantic idea, harbored in the brand
Celadons do not have complicated patterns; they are able to deliver simple and pure ideas rather directly. The composure in celadon resides in its playfulness, and its purity in its elegance. Understanding this, Fu Chin decides to use azure color glazes and modern ice crackle creations as his foundation. With different themes and content, Fu Chin wishes to attract people who are interested in artwork collection and ancient culture, to share and innovate for our profound Chinese culture, and set up the brand Fu Chin Ceramic.
The creations of Fu Chin take in modern life scenarios and share its own view on life, giving it unique value. The path of moderation, which takes in cultural viewpoint and business benefits, is the best translation of modern artwork. While proud loneliness is revolutionary, the path that does not align with modern life surely will not resonate with people. Thus, calling upon real life experiences to connect the idea, is the key to delivering authentic feelings. It is the modern translation of traditional celadon art, and the core value of Fu Chin Ceramic.
Fu Chin's work focuses on presenting the spiritual side of life. You may notice besides functional celadon like tea cups; all other creations are single piece. The serenity of thick glaze coatings, combined with aesthetic appreciation of modern art, the magnificent Eastern culture classic is brought to life again by the azure celadon with beautiful crackle. Fu Chin has worked with the National Palace Museum to create a series of artworks, collectors can now bring the beauty of National Palace Museum home, and appreciate the elegance of ancient royalties.
Celadons made by Fu Chin receive a lot attention, among them includes Warming Bowl with Celadon Glaze from the Northern Song Dynasty (北宋蓮花式溫碗), which demonstrates its unpolluted purity of a lotus, presented by its unique craftmanship with glazes on both sides of clay body. Tian-Qing-Shui-Xian-Pen, which showcases its spirited curves with azure glazes and exquisite visuals that resembles the watery sensation of jade, has recreated the gentle atmosphere of Song Dynasty. The representatives of Guan ware, that is unique to the Southern Song Dynasty, Hibiscus-Shaped Bowl in Celadon Glaze (粉青葵花式碗) and Official Kiln Chrsanthemum-Shaped Dish with Celadon Glaze (粉清官釉菊花盤), are the best imitations of flower by ceramics. With delicate crackle, they demonstrate the implicit and introverted art style of Song Dynasty, which has captivated many people.
Fu Chin has a keen observation on his collectors as well, they share an implicit, rather introverted personality, and have a strong sense of romance and ceremony. They also have a strong sense of self and have rich emotions. After deep conversation with the collectors and understanding them, Fu Chin will recommend three or more creations for the collectors, according to their personality. With this, Fu Chin wishes to help collectors find the artworks which demonstrates their life attitude, and pursue the ultimate beauty in their definition.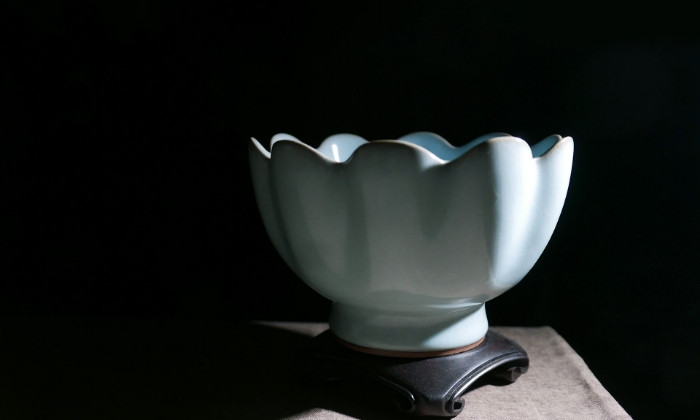 The innovative aesthetics of traditional crafts
Fu Chin, with his inherent talent and aesthetics gifts, has mastered the art of both East and West, and imbued the essences of both in his creations. Crafting the beauty of life with details in his creations, he presents to everyone his purest side. Through the artworks, his soul will take you on a journey across time, to resonate and feel the ancient innovations. With his initial intention to share the beauty of celadon and heal people' heart, he believes only when he does not give credits to only his skills, can he surpass the subjective opinions of others. With a calm heart and not fret in face of difficulties, he could enjoy the process of creation more, and appreciation what life has for him.
"Grab a handful of soil, and spill onto the sky. Then, the art completes itself." Fu Chin's idea on creation, delivers his appreciation towards the natural flow of life.
"Creating artwork is a career of life. Only with constant improvements and unwavering passion, will I not disappoint my collectors." Fu Chin thinks, modern arts need to work its way past pleasing the audiences and imitation of past creations. Fu Chin Ceramic as a brand, not only looks for exhibition opportunities in art galleries, but also record the experiences of creating artworks in words and videos. With the accumulated materials, the brand has created a system to appreciate artworks, and sincerely invites people who are interested in celadon artworks to visit them. With deep conversations, Fu Chin Ceramic will introduce to you the unique charisma of celadon, and help find the creations that resonate with you.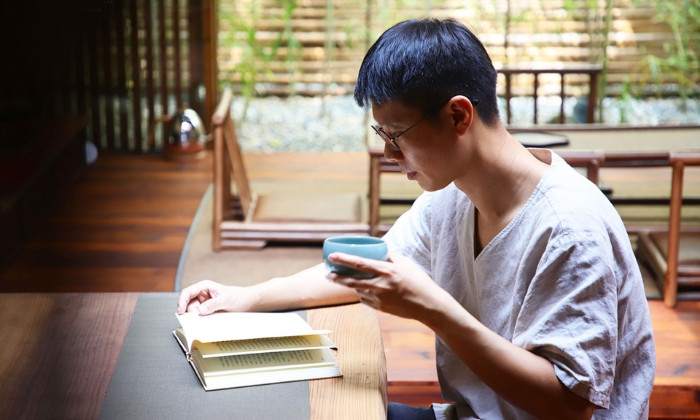 About Fu Chin
Introduction
Fu Chin, an artist dedicated himself to creating exquisite celadon artworks and ice crackle celadon. He wishes for people to find serendipity from within the heart, and enjoy every moment of life, feeling all the great things around them, by indulging themselves in the beauty of celadon.
Whilst having only 15 years of experiences, he has created the artwork with the highest price in National Palace Museum, in a collaboration with the museum. He has received numerous awards in exhibitions in Taiwan, China and Japan. In 2020, on his 3rd year of joining Japan Traditional Kogei Association, Tokai branch, his celadon creation was given an award by the association. He is also the first Taiwanese in the association.
Contact
T . +886-4-2461-6901
E . [email protected]
A . No. 5, Ln. 128, Fuya Rd., Xitun Dist., Taichung City
w . https://fu-chin.com.tw/
FB . https://www.facebook.com/DTceladon
IG . https://instagram.com/fuchin_pottery
Related Articles
Welcome to Fo Guang University's 2023 International Summer School! We are excited to invite international students to join us for a two-week program from June 25th to July 8th.
Ceramics in the Song dynasty is the most glorious chapter throughout the history of pottery. The spirit of scholar-officials and Zen Buddhism not only cultivated advanced civilization of the society, but also achieved the simplicity and elegance of Song ceramics. That is, Song celadon ceramics suitably present the most intricate standards of refined beauty in the purest form, shown by multiple aspects of the works such as the shapes, glaze, and texture. When it comes to appreciation of celadon ceramics, viewers have to observe the subtlest details, from light and shadow to crackles, to feel the dedication of the potterist.
Rice, tea leaves, and orange daylily, Yuli Township, Hualien, gathers precious agricultural resources, awarded by several competitions. To improve tourism in Yuli, the Small and Medium Enterprises Administration, Ministry of Economic Affairs, initiated the "New Life in Pusko" project to promote excellent products via a digital cluster consisting of 10 local enterprises. The project is aimed to make Yuli a new popular tourist destination of Hualien with joint digital marketing campaigns.