2023 Taiwanese Nut Drink Tasting Event (exclusively for Thailand)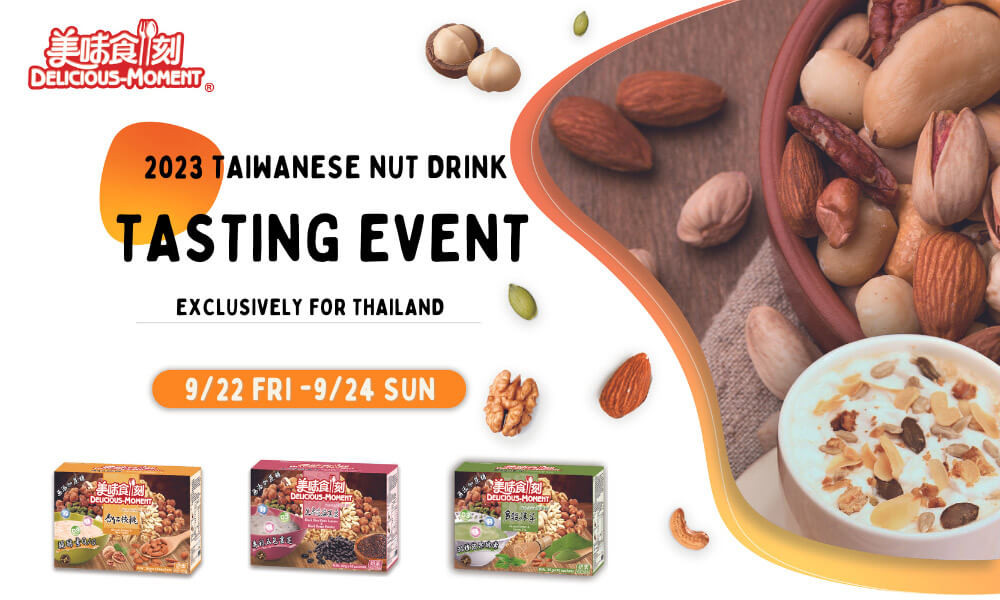 Event Description
Dear Thai friends, Taiwan's Delicious Moment's newest line of nut drinks is coming to Thailand! You will have the opportunity to be one of the first Thais to taste these three new flavors, join us on this unique culinary adventure!

Three amazing new flavored nut drinks: Black Rice Black Sesame & Black Beans Powder ,Almonds Walnuts & Nuts Powder and Grains Powder & Green Tea. Cold and hot drinks will be available for tasting at the event. We invite you to be the first guest in Thailand to taste these delicious drinks!

We welcome you to visit us and give us your honest opinions and suggestions! We value your feedback very much, we hope that this tasting event is not only a drink feast, but also an opportunity for two way communication, which will help us improve our products, so that we can meet your tastes and needs and provide you with the best service.

Let's look forward to meeting you at one of our three drinking shops in Thailand. Enjoy this unique drinking journey. Invite your friends and family to join us!
รายละเอียดกิจกรรม:
เพื่อนๆพี่ๆน้องๆชาวไทยที่น่ารักทุกท่าน แบรนด์อาหารจากไต้หวัน "Delicious moment" ได้ออกเครื่องดื่มธัญพืชรสชาติใหม่ 3 รสชาติและจะมาให้ทุกท่านได้ทดลองชิมกันถึงที่ประเทศไทย มาร่วมกันเป็น1ในคนแรกๆที่จะได้ลิ้มลองรสชาติที่แสนอร่อยไปด้วยกัน

 เครื่องดื่มธัญพืชรสชาติใหม่ 3 รสชาติ ได้แก่ Black Rice Black Sesame & Black Beans Powder ,Almonds Walnuts & Nuts Powder และ Grains Powder & Green Tea ในงานกิจกรรมทดลองชิมนี้มีทั้งเครื่องดื่มธัญพืชแบบร้อนและเย็นให้ทุกท่านได้ทดลองชิม

ขอเชิญชวนทุกท่านมาร่วมกิจกรรมทดลองชิมนี้ เรายินดีน้อมรับทุกคำติชมและคำแนะนำ หวังว่ากิจกรรมนี้ไม่ใช่เพียงแค่การลิ้มลองของอร่อย แต่ยังเป็นโอกาสให้ทุกท่านได้ร่วมแลกเปลี่ยนความคิดเห็นกัน ให้แบรนด์ได้ปรับปรุงและพัฒนาผลิตภัณฑ์ จนสามารถตอบสนองความต้องการของทุกท่านได้ 

พวกเราหวังว่าจะได้พบกับทุกท่านในสถานที่จัดกิจกรรม 3 สถานที่นี้ และเชิญชวนพ่อแม่พี่น้องคนรู้จักมามาร่วมลิ้มลองรสชาติที่แสนอร่อยไปด้วยกัน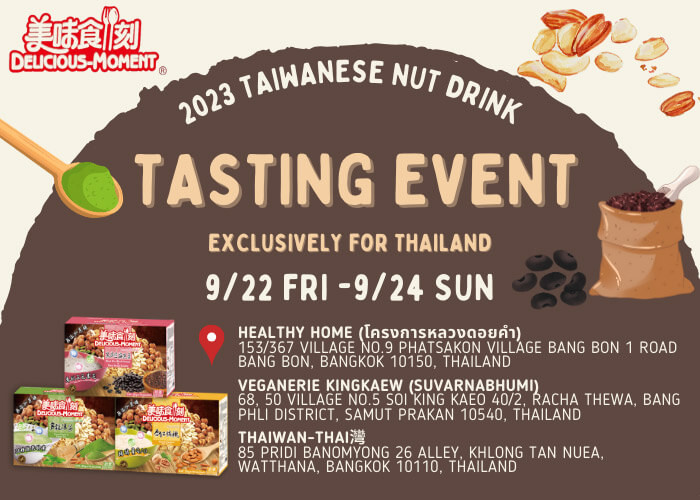 Event Information:
Organizer: VALUE FOODS R&D CO., LTD.
Date and Time: September 22, 2023 to September 24, 2023
Location:
ข้อมูลเกี่ยวกับกิจกรรม:
จัดโดย: VALUE FOODS R&D CO., LTD.
เวลา:2023/9/22 - 2023/9/24
สถานที่ :
Related Articles
Thailand has a very special festival called The Nine Emperor Gods Festival, commonly known as the"Vegetarian Festival". The Nine Emperor Gods Festival is from September 1st to September 9th in the lunar calendar every year. In Thai, we call it "เทศกาลกินเจ"which means the day of vegetarianism.
While vegetarians remain the minority in the world, there is an increasing number of people consuming less animal food and using fewer animal products. In 2020, "flexible vegetarians" accounted for 42% of the world's population. Overall, vegetarianism is becoming a new dietary trend.
Vegetarianism is on the rise worldwide, more and more people are choosing to become vegetarians, the reason for choosing vegetarianism is no longer just about religious beliefs, it's more about health and the environment.