Methee Huang Jingsheng Cashew – Cashew Brand Founded on Phuket Island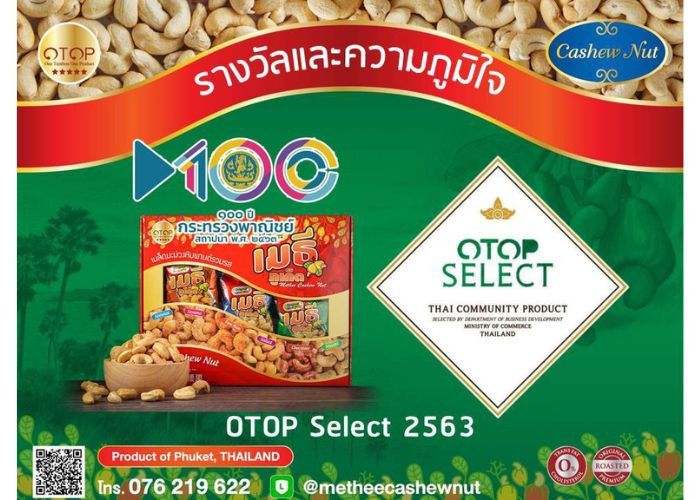 Methee Huang Jingsheng Cashew was founded in 1972 and has almost 50 years of history. This brand was founded on this beautiful tropical island, Phuket Island, by our parents. Initially, they didn't work in food-related industries but worked as metal craftsmen instead. Out of expectation, they later built great wealth and a successful career with cashew.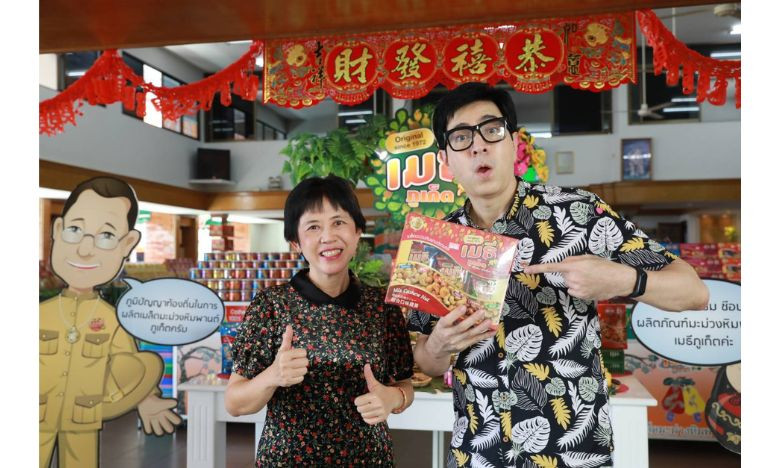 Methee Huang Jingsheng Cashew - A Trustworthy and Reputable Brand

To this day, besides the earliest store, we also have our second store now. Our products are accessible with both physical stores and online shopping. We have been devoting ourselves to building a trustworthy and reputable brand. In the early days, despite using the common procedure of deep-frying, our improved production method is rather unique and original. Then after 2004, we transformed our business to produce healthier cashews; therefore we employ artisanal baking in order to retain the nutrition of cashews. And thanks to the transformation of production, we kept ourselves up to the healthy lifestyle trend in modern days.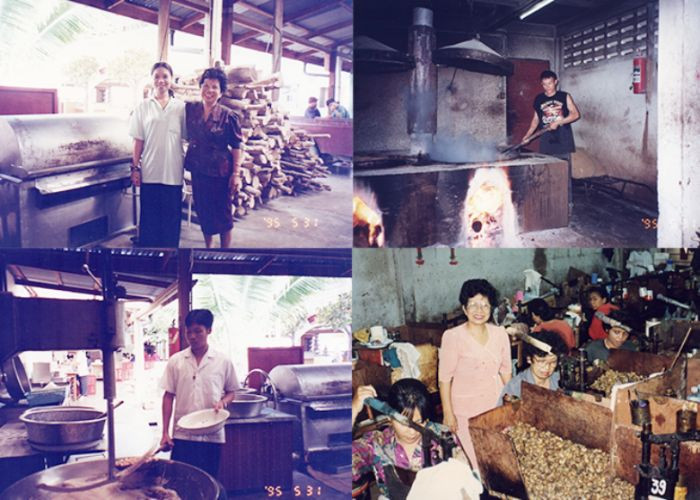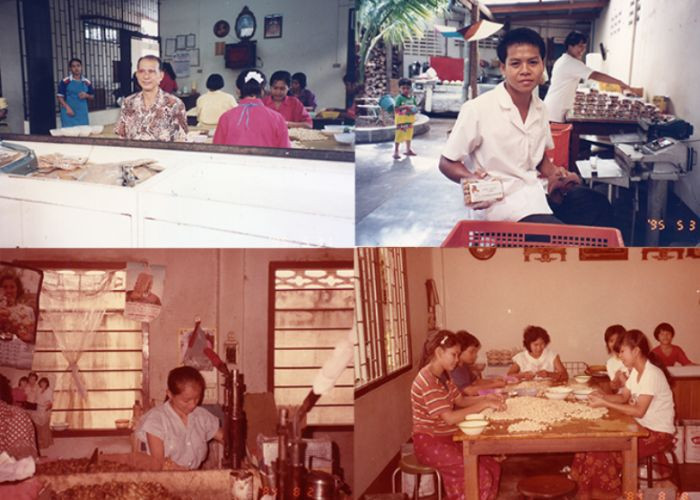 We Put Great effort in Each Cashew

The production of cashew requires a lot of steps. Since many steps in our factory are done fully by hand, we spend more time on producing fewer amounts, compared to automated factories. For example, we need to roast the cashew for 14 hours before processing and seasoning. The cashews will be seasoned after the peels are removed. Most other factories, on the other hand, season cashews when they're still white. So our cashews are quite different from others' since we season baked golden brown cashews. Our cashew has an appetizing color and enhanced aroma.
In addition, we insist on frying cashews by hand for the processing and seasoning procedure. We can only process 2kg of cashews every round, and each round takes up to 15minutes. So if we are to make 13 flavors of each pot, it will take at least 3 hours to fry. There are other procedures by hand such as removing shells and peels. Last but not least, we must pick the most nicely shaped cashews by hand. This time-consuming artisanal process requires great effort, which shows our persistence in quality for 50 years: every cashew we produce must be more delicate and precious with proven quality.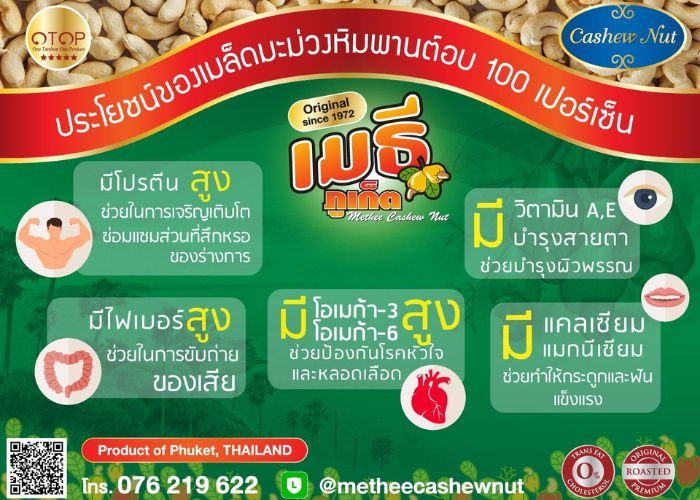 Introduction to Cashew

Production Workflow of Cashew

1. Sun drying (1-2 days) 2. Storing in warehouses 3. Boiling (for roughly 2 hours) 4. Removing shells 5. Roasting (for roughly 13 hours) 6. Removing peels 7. Picking 8. Seasoning and processing (for roughly 3 hours) 9. Packaging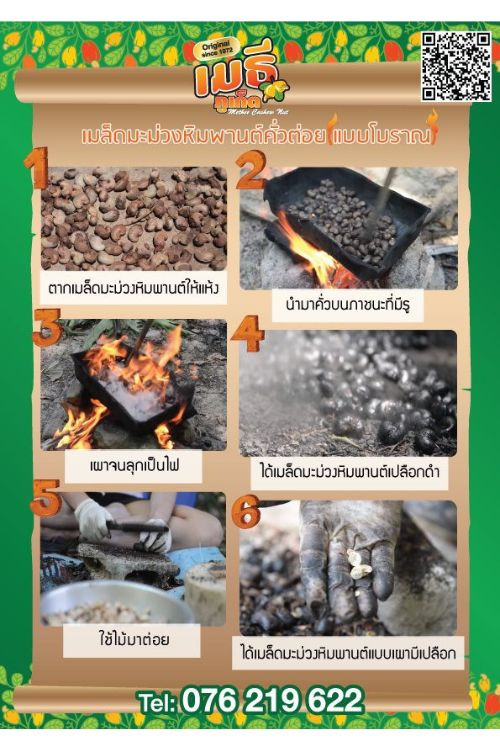 About Cashew

The cashew tree in Phuket was originally planted in the tropical jungles in Brazil. In 1901, Khaw Sim Bee, a Thai Chinese provincial administrator, introduced cashew trees from Malaysia. After the success of experimental planting in Trang Province, Thailand, cashew trees were then spread to other Southern districts. After 100 years, cashew has become the famous local product of Phuket.
The growth season of cashew trees only lasts for one season. The time is in February, March, and April. After the planting by hard-working farmers, cashew trees take three years to blossom and bear fruit. The golden time for growth will last until the eighth year and will then slow down. So the period of time to harvest is quite short, which makes cashew precious.
The ripe fruit of the cashew tree is colorful. It can be red, yellow, and orange, but this pear-shaped fruit is called a false fruit. We basically use false fruit to make cashew juice. But due to the small number of false fruit, cashew juice is supplied only in limited amounts and periods. The other part of fruit is called true fruit, which is cashew we eat in our daily life. It has rich nutrients such as vitamin A, B, E, protein, etc, and the fat belongs to omega unsaturated fatty acids, healthy fat that is often called "blood vessel sweeper".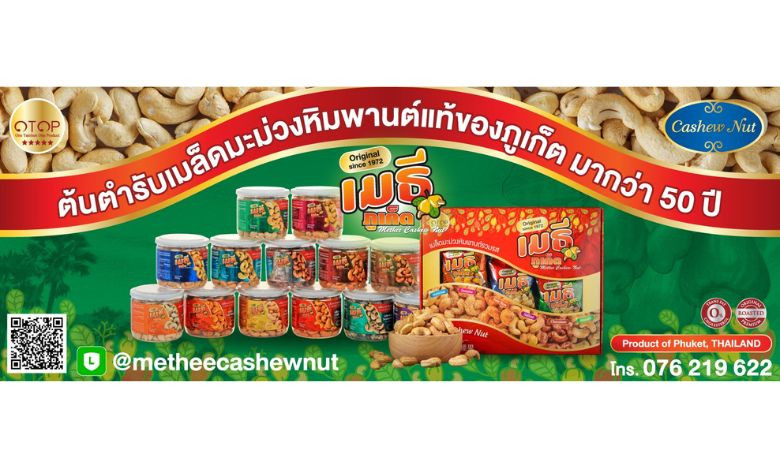 Related Articles
A long and narrow valley, located between Central Mountain Range and Coastal Mountain Range, cultivates the most purified and high-quality produce. We, as residents of the valley, are dedicated to making our superb products more distinguishable for our customers who are fond of local produce in Huadong Valley . We aim to build a reputable brand by cooperating with Agriculture Production and Marketing Groups as well as preeminent farmers.
Earth, the mother of marvelous nature, is growing sick and is being damaged under the influence of advancing modernization and land reclamation. We hope to promote the idea of "vegetarian diet with knowledge", to lead a more environmentally-friendly lifestyle that reduces pollution, also to choose diets with lower consumption of natural resources.
Methee Huang Jingsheng Cashew was founded in 1972 and has almost 50 years of history. This brand was founded on this beautiful tropical island, Phuket Island, by our parents.