FoFoCup: An eco-friendly, foldable and reusable travel cup.
Source: FoFoCup
We all know that feeling: It's early in the morning and we have to rush off to work. En route we stop for a cup of coffee or tea to go, hoping it will give us that pick-me-up as we start our day.
However, a glance at a trash can or some garbage in the streets reminds us that we are not the only ones who have this urge in the morning.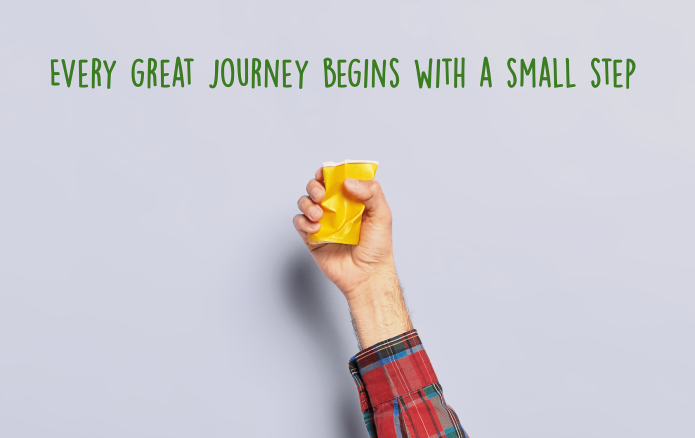 Yet, if we were to bring a reusable cup with us on our morning runs to the coffee shop, we wouldn't know where to put it. Its size simply won't fit in our purses or bags. Moreover, any remaining drops of the cup of coffee or tea after we're done with it could seep out.
Based on this experience, an idea began to emerge – the idea to create a reusable cup that would first, and foremost, have a small environmental footprint and that would also have a compact design that would fit securely in a bag or purse. In other words, a solution that would work for everyone.
From this fundamental concept and after countless prototypes, tests, design adjustments and a lengthy search for the perfect material for the cup, our product designer – Cyc – ultimately achieved our goal.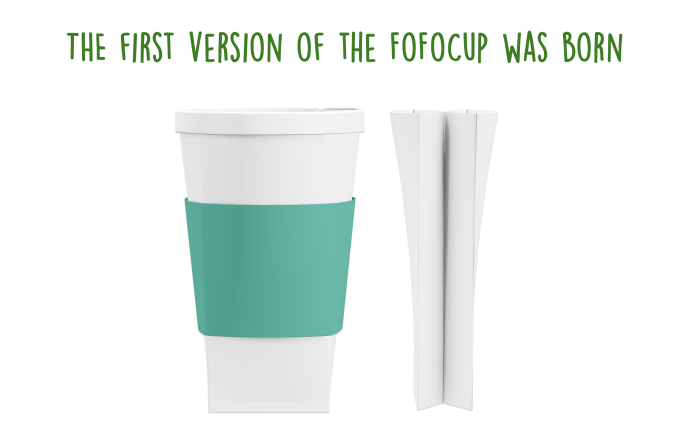 The first version of our cup was born. He had redesigned a round beaker into a foldable cup. Its exterior could only be distinguished from conventional cups because of its square bottom, which fits into virtually every purse or bag and can be used more than 1,000 times. At first, we were convinced that we had accomplished our mission. However, there were still a few issues we had to address.
For example, what would be the best way to protect the cup and what material would be suitable to protect the hand from heat while drinking a hot beverage. Hence, we began another search for additional compatible components – components that fit the "Zeitgeist" like a glove and also communicated a positive environmental awareness message. It took a while until we discovered natural cork and its diverse uses.
The path from the initial drafts to our finished design of a functional sleeve and protective bag was long, but it was worth it. The perfect set to go was finally here.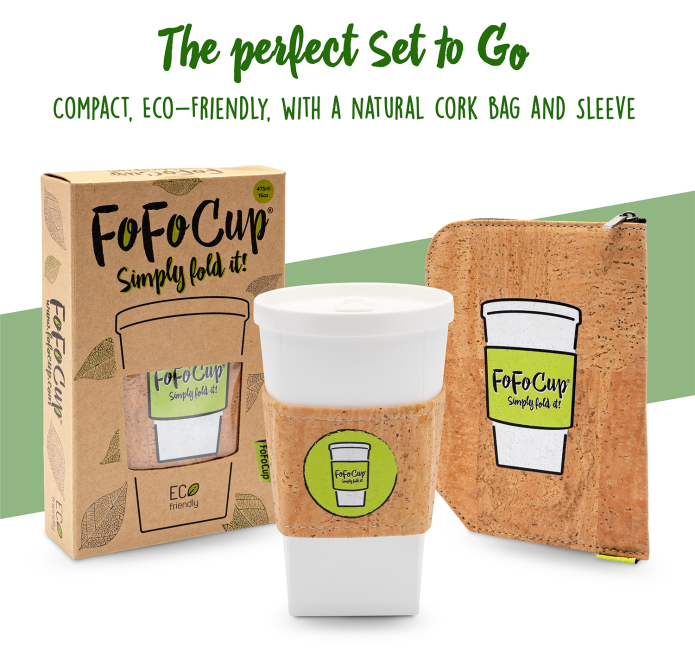 Compact: Folds to fit in your pocket or bag
Ecofriendly: Saving our environment by using BPA Free materials and Natural Cork for the accessories
Certified by SCG; ISO 9000 Certified: 100% Food Grade Polypropylene
Natural Cork Zipper Travel Pouch: Keep your FoFoCup clean and dust-free while commuting and traveling throughout the day.
Hot & Cold Liquids: Enjoy a pick-me-up coffee in the morning & an ice-cold water on your way home
Spill Proof: No more residual drops of coffee or tea in your handbag!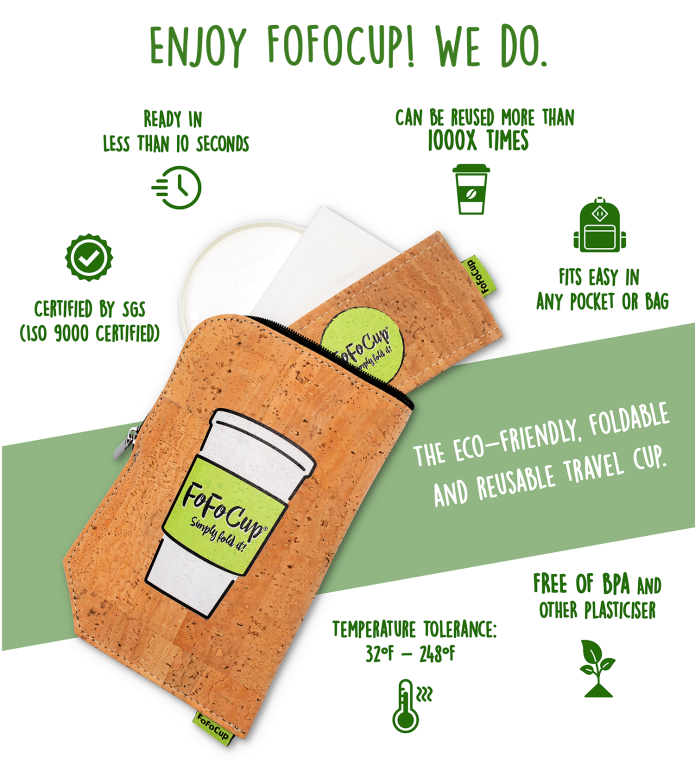 Designed for YOU
The Traveler
So small, it fits in your purse, pocket, backpack, or travel bag. The FoFoCup travels with you everywhere: car, metro, airplane, beach, park, sporting events, and so much more!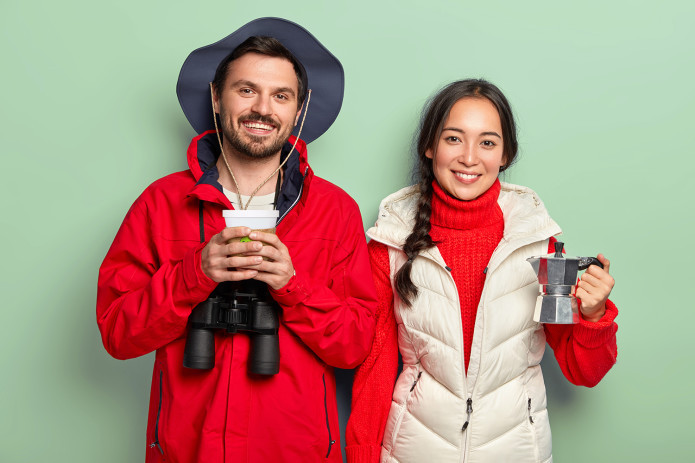 The Commuter
Don't have time to drink your coffee or tea in the morning because you have to catch the train or bus to work? The FoFoCup is your perfect companion when it has to go fast in the morning. Ready to use in under 10 seconds and fits perfectly in any bag.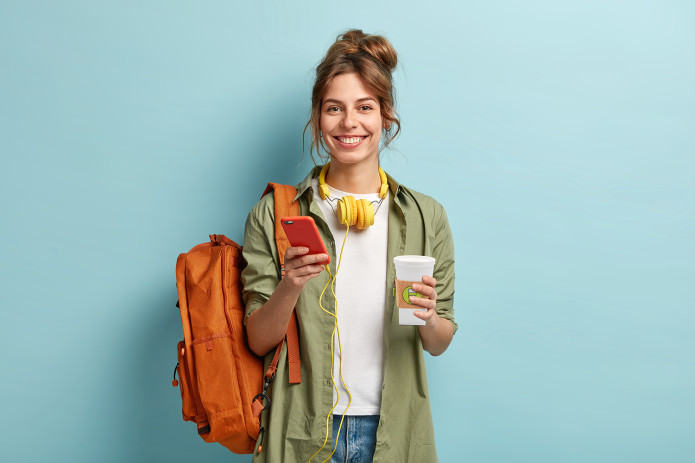 The Fashionista
You love to dress perfectly coordinated from head to toe and still like to avoid unnecessary waste? The FoFoCup with its stylish natural cork bag and sleeve will accompany you everywhere you go.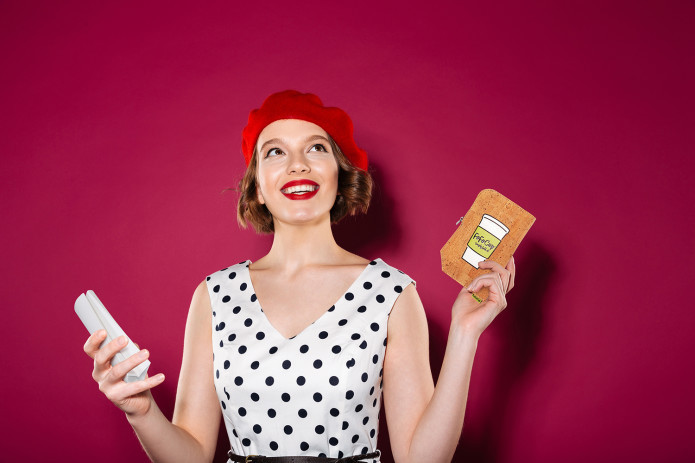 The Minimalist
Live in a tiny space? Get one FoFoCup for everyone in your household = less space, less dishes, less headaches. Those living in small spaces know that every square inch counts.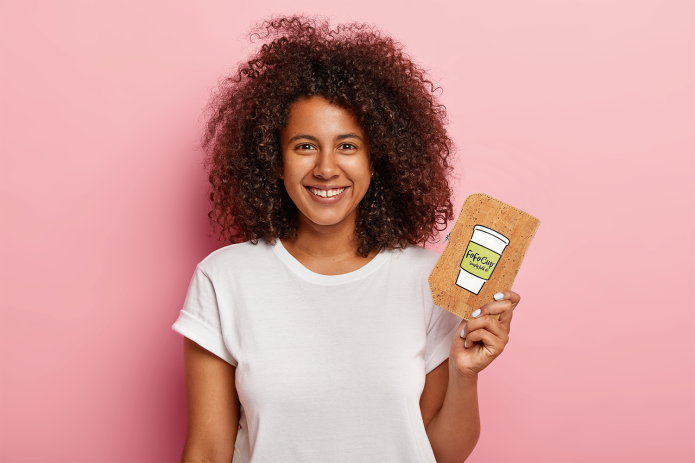 The College Students
Enjoy warm or hot drinks in the morning. Cold drinks on the go. Every student is on the go and the small, foldable FoFoCup travels with you all over campus!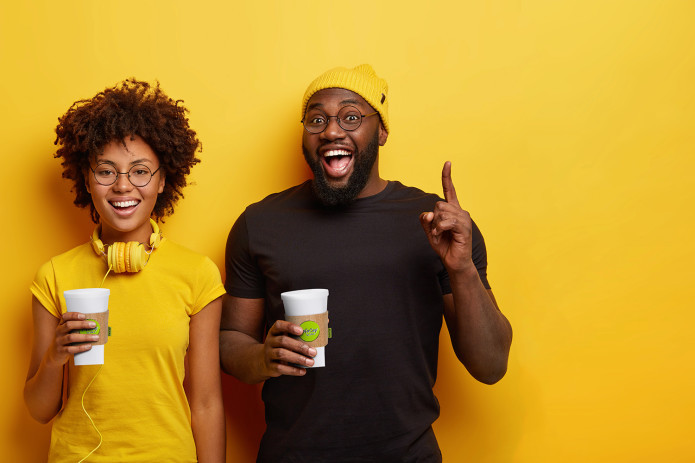 Thank you, Funders & Followers, One Cup instead of Millions!
Thank you from the bottom of our hearts for sharing our passion (Recycling On Purpose) and reading this far in the campaign!
Together we can help men, women, children, and our communities for years to come as we use one cup instead of millions. Where do YOU plan to use your FoFoCup?
Share with us at Instagram @https://www.instagram.com/fofocup/ where you use your FoFoCup!
Unable to invest in FoFoCup today? No worries. Simply share this campaign on all of your social media platforms! Share with your friends, family, and social followers the convenience of FoFoCup! Check out our Rewards and our Early Bird Special!
Related Articles
Meet. Discuss. Grow. at our networking night on March 9th. If you're interested in digital product development, learn from industry experts as we focus on the "How to Build an Effective Digital Product" topic.
Join us to discover the possible solutions telecom giants are searching for and learn from our panel of experts on their data-driven insights.
DIGITIMES will be hosting the "Supply Chain Summit" on 27-28th September 2022 in Taipei, Taiwan (Hybrid Event). Over 50 leading companies/brands will be present, along with Taiwanese and international experts, to share their perspectives on how to manage global supply chain risks, maintain resilience, and deliver sustainable growth.